Page 2 - transsiberian
P. 2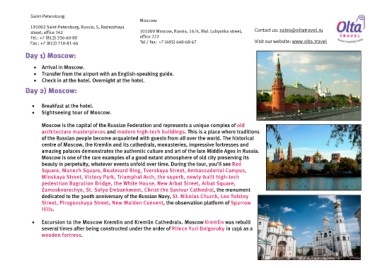 Saint-Petersburg:                                Moscow:                                             Contact us: sales@oltatravel.ru
                                                                                                     Visit our website: www.olta.travel
191002 Saint-Petersburg, Russia, 5, Raziezzhaya  101000 Moscow, Russia, 16/4, Mal. Lubyanka street,
street, office 342                               office 222
Tel.: +7 (812) 336-60-80                         Tel./ fax: +7 (495) 648-68-67
Fax.: +7 (812) 710-81-66

Day 1) Moscow:

    • Arrival in Moscow.
    • Transfer from the airport with an English-speaking guide.
    • Check in at the hotel. Overnight at the hotel.

Day 2) Moscow:

• Breakfast at the hotel.
• Sightseeing tour of Moscow.

     Moscow is the capital of the Russian Federation and represents a unique complex of old
     architecture masterpieces and modern high-tech buildings. This is a place where traditions
     of the Russian people become acquainted with guests from all over the world. The historical
     centre of Moscow, the Kremlin and its cathedrals, monasteries, impressive fortresses and
     amazing palaces demonstrates the authentic culture and art of the late Middle Ages in Russia.
     Moscow is one of the rare examples of a good extant atmosphere of old city preserving its
     beauty in perpetuity, whatever events unfold over time. During the tour, you'll see Red
     Square, Manezh Square, Boulevard Ring, Tverskaya Street, Ambassadorial Campus,
     Minskaya Street, Victory Park, Triumphal Arch, the superb, newly-built high-tech
     pedestrian Bagration Bridge, the White House, New Arbat Street, Arbat Square,
     Zamoskvorechye, St. Sofya Embankment, Christ the Saviour Cathedral, the monument
     dedicated to the 300th anniversary of the Russian Navy, St. Nikolas Church, Leo Tolstoy
     Street, Pirogovskaya Street, New Maiden Convent, the observation platform of Sparrow
     Hills.

• Excursion to the Moscow Kremlin and Kremlin Cathedrals. Moscow Kremlin was rebuilt
     several times after being constructed under the order of Prince Yuri Dolgoruky in 1156 as a
     wooden fortress.