Page 3 - transsiberian
P. 3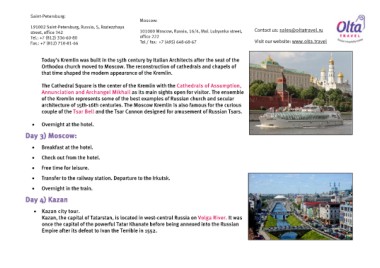 Saint-Petersburg:                                Moscow:                                             Contact us: sales@oltatravel.ru
                                                                                                     Visit our website: www.olta.travel
191002 Saint-Petersburg, Russia, 5, Raziezzhaya  101000 Moscow, Russia, 16/4, Mal. Lubyanka street,
street, office 342                               office 222
Tel.: +7 (812) 336-60-80                         Tel./ fax: +7 (495) 648-68-67
Fax.: +7 (812) 710-81-66

        Today's Kremlin was built in the 15th century by Italian Architects after the seat of the
        Orthodox church moved to Moscow. The reconstruction of cathedrals and chapels of
        that time shaped the modern appearance of the Kremlin.

        The Cathedral Square is the center of the Kremlin with the Cathedrals of Assumption,
        Annunciation and Archangel Mikhail as its main sights open for visitor. The ensemble
        of the Kremlin represents some of the best examples of Russian church and secular
        architecture of 15th-16th centuries. The Moscow Kremlin is also famous for the curious
        couple of the Tsar Bell and the Tsar Cannon designed for amusement of Russian Tsars.

   • Overnight at the hotel.

Day 3) Moscow:

   • Breakfast at the hotel.

   • Check out from the hotel.

   • Free time for leisure.

   • Transfer to the railway station. Departure to the Irkutsk.

   • Overnight in the train.

Day 4) Kazan

    • Kazan city tour.
         Kazan, the capital of Tatarstan, is located in west-central Russia on Volga River. It was
         once the capital of the powerful Tatar Khanate before being annexed into the Russian
         Empire after its defeat to Ivan the Terrible in 1552.