Page 4 - transsiberian
P. 4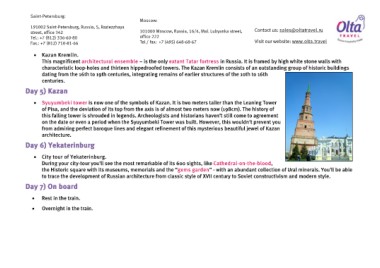 Saint-Petersburg:                                Moscow:                                             Contact us: sales@oltatravel.ru
                                                                                                     Visit our website: www.olta.travel
191002 Saint-Petersburg, Russia, 5, Raziezzhaya  101000 Moscow, Russia, 16/4, Mal. Lubyanka street,
street, office 342                               office 222
Tel.: +7 (812) 336-60-80                         Tel./ fax: +7 (495) 648-68-67
Fax.: +7 (812) 710-81-66

    • Kazan Kremlin.
         This magnificent architectural ensemble – is the only extant Tatar fortress in Russia. It is framed by high white stone walls with
         characteristic loop-holes and thirteen hippedroofed towers. The Kazan Kremlin consists of an outstanding group of historic buildings
         dating from the 16th to 19th centuries, integrating remains of earlier structures of the 10th to 16th
         centuries.

Day 5) Kazan

    • Syuyumbeki tower is now one of the symbols of Kazan. It is two meters taller than the Leaning Tower
         of Pisa, and the deviation of its top from the axis is of almost two meters now (198cm). The history of
         this falling tower is shrouded in legends. Archeologists and historians haven't still come to agreement
         on the date or even a period when the Syuyumbeki Tower was built. However, this wouldn't prevent you
         from admiring perfect baroque lines and elegant refinement of this mysterious beautiful jewel of Kazan
         architecture.

Day 6) Yekaterinburg

    • City tour of Yekaterinburg.
         During your city-tour you'll see the most remarkable of its 600 sights, like Cathedral-on-the-blood,
         the Historic square with its museums, memorials and the "gems garden" - with an abundant collection of Ural minerals. You'll be able
         to trace the development of Russian architecture from classic style of XVII century to Soviet constructivism and modern style.

Day 7) On board

• Rest in the train.
• Overnight in the train.