Page 5 - transsiberian
P. 5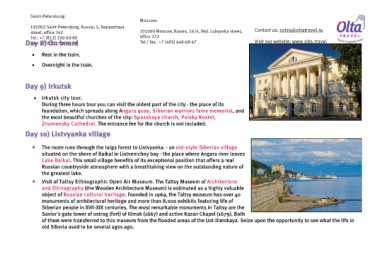 Saint-Petersburg:                                    Moscow:                                             Contact us: sales@oltatravel.ru
                                                                                                            Visit our website: www.olta.travel
   191002 Saint-Petersburg, Russia, 5, Raziezzhaya      101000 Moscow, Russia, 16/4, Mal. Lubyanka street,
   street, office 342                                   office 222
                                                        Tel./ fax: +7 (495) 648-68-67
DaFTaeyxl..::+8+77)((88O1122n))373b160o--68a01-r-86d06

   • Rest in the train.

   • Overnight in the train.

Day 9) Irkutsk

    • Irkutsk city tour.
         During three hours tour you can visit the oldest part of the city - the place of its
         foundation, which spreads along Angara quay, Siberian warriors fame memorial, and
         the most beautiful churches of the city: Spasskaya church, Polsky Kostel,
         Znamensky Cathedral. The entrance fee for the church is not included.

Day 10) Listvyanka village

  • The route runs through the taiga forest to Listvyanka - an old-style Siberian village

         situated on the shore of Baikal in Listvenichny bay - the place where Angara river leaves
         Lake Baikal. This small village benefits of its exceptional position that offers a real
         Russian countryside atmosphere with a breathtaking view on the outstanding nature of
         the greatest lake.

  • Visit of Taltsy Ethnographic Open Air Museum. The Taltsy Museum of Architecture

         and Ethnography (the Wooden Architecture Museum) is estimated as a highly valuable
         object of Russian cultural heritage. Founded in 1969, the Taltsy museum has over 40
         monuments of architectural heritage and more than 8,000 exhibits featuring life of
         Siberian people in XVII-XIX centuries. The most remarkable monuments in Taltsy are the
         Savior's gate tower of ostrog (fort) of Ilimsk (1667) and active Kazan Chapel (1679). Both
         of them were transferred to this museum from the flooded areas of the Ust-Ilimskaya. Seize upon the opportunity to see what the life in
         old Siberia used to be several ages ago.