Page 6 - transsiberian
P. 6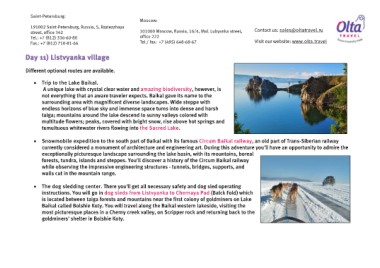 Saint-Petersburg:                                Moscow:                                             Contact us: sales@oltatravel.ru
                                                                                                     Visit our website: www.olta.travel
191002 Saint-Petersburg, Russia, 5, Raziezzhaya  101000 Moscow, Russia, 16/4, Mal. Lubyanka street,
street, office 342                               office 222
Tel.: +7 (812) 336-60-80                         Tel./ fax: +7 (495) 648-68-67
Fax.: +7 (812) 710-81-66

Day 11) Listvyanka village

Different optional routes are available.

    • Trip to the Lake Baikal.
         A unique lake with crystal clear water and amazing biodiversity, however, is
         not everything that an aware traveler expects. Baikal gave its name to the
         surrounding area with magnificent diverse landscapes. Wide steppe with
         endless horizons of blue sky and immense space turns into dense and harsh
         taiga; mountains around the lake descend to sunny valleys colored with
         multitude flowers; peaks, covered with bright snow, rise above hot springs and
         tumultuous whitewater rivers flowing into the Sacred Lake.

• Snowmobile expedition to the south part of Baikal with its famous Circum Baikal railway, an old part of Trans-Siberian railway
    currently considered a monument of architecture and engineering art. During this adventure you'll have an opportunity to admire the
    exceptionally picturesque landscape surrounding the lake basin, with its mountains, boreal
    forests, tundra, islands and steppes. You'll discover a history of the Circum Baikal railway
    while observing the impressive engineering structures - tunnels, bridges, supports, and
    walls cut in the mountain range.

• The dog sledding center. There you'll get all necessary safety and dog sled operating
    instructions. You will go in dog sleds from Listvyanka to Chernaya Pad (Balck Fold) which
    is located between taiga forests and mountains near the first colony of goldminers on Lake
    Baikal called Bolshie Koty. You will travel along the Baikal western lakeside, visiting the
    most picturesque places in a Cherny creek valley, on Scripper rock and returning back to the
    goldminers' shelter in Bolshie Koty.